Environment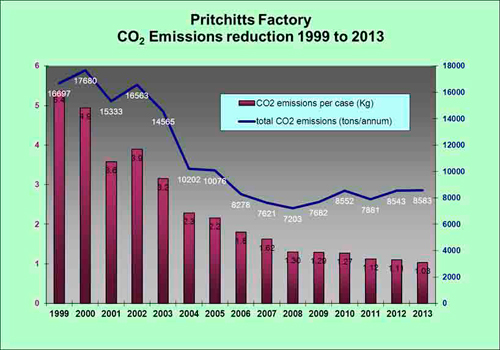 Environmental Improvement:
We work closely with our stakeholders to achieve continuous environmental improvements for all aspects of our operations. Our efforts have been recognised by numerous accolades for our environmental and energy management.
In particular, we have:
Installed an independently accredited Environmental Management System (ISO 14001:2004). 
Reduced our carbon output by 79% per kg of product produced since 1999.
Reduced energy consumption by 46% per kg of product manufactured since 2004.
Diverted over 80% of all wastes away from landfill.
Embarked on a successful "growing biofuel from waste" programme.
Successfully achieved an IPPC licence to operate from the Environment Agency.
Awards and Accolades:
Pritchitts has received numerous awards for environmental stewardship and commitment to sustainable manufacturing:
2011:
-  Platinum status in the Arena Network Environmental Management Survey
-  Bank of America Merrill Lynch Award for Action on Climate Change
2010: Bank of America Merrill Lynch Award for Action on Climate Change
2009:
-  Northern Ireland Award for Innovation in Health and Safety
-  Acknowledged by the Carbon Trust as adhering to best practices and received the 'Carbon Trust Standard' certification
-  Winner of the regional Environmental Improvement Award from Business in the Community 2009
2008: Pritchitts - Platinum status in environmental management
2007: Lakeland Dairies - Repak Best Member of the Year Award
2006: Lakeland Dairies - National Repak Best Practice Award