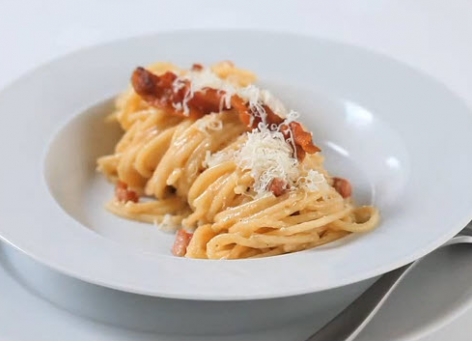 Serves: 12
Ingredients
400g Millac Gold
1kg spaghetti
8 egg yolks
8 whole eggs
400g pecorino cheese, grated
500g pancetta diced cubes
12 pancetta slices
4 pinches pepper
2 pinches salt
Method
In a bowl, mix together the cheese, egg yolks, eggs and Millac Gold. Allow the mixture to rest for 1 hour until it thickens.
In hot frying pan, toast the cubes of pancetta, drain and reserve. In the same frying pan, fry the pancetta slices until golden brown, drain and reserve.
Cook the pasta until firm ('al dente') Drain thoroughly.
Place the hot pasta back into the cooking pot (with no water) on a medium heat and add the egg-cream-cheese mix.
With a spatula, mix slowly and continuously until the cream starts to set. Remove from heat. Stir in the hot pancetta cubes, distributing them evenly.
Serve on a plate with some grated pecorino cheese and a strip of fried pancetta.