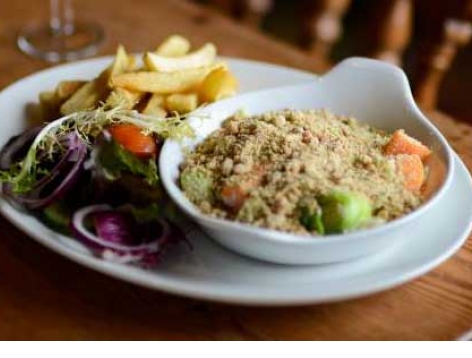 Serves: 10
Ingredients
For the crumble:
900g Lakeland Dairies Butter
1800g flour
200g stilton
pinch mixed herbs
salt and pepper
For the filling:
1.5 litres Millac Gold
2 large white onions
10 large leeks
4 medium butternuts
200g mature cheddar cheese
1 tbsp garlic purée
pinch of mixed herbs
pinch of white ground pepper
1 litre of vegetagble stock
250ml white wine
150g Lakeland Dairies Butter
Method
Mix together the crumble ingredients and set aside.
Chop the onions and leeks and place in a medium sized pan; add the butter, garlic, herbs, pepper, stock and wine.
Cover with parchment paper and cook on a low heat.
Meanwhile, skin, de-seed and slice the butternut.
Once the onion and leek are nearly cooked, add the butternut, stir and then cover.
When the butternut is nearly cooked, turn off the heat and stir in the Millac Gold and cheddar cheese.
Pour the butternut mixture into an oven proof dish and cover with the crumble.
Bake in the oven at 180°C for 20 minutes until the crumble is crispy and golden brown.