Collect them All! Introducing the NEW Millac Cream Family Farmyard Friends...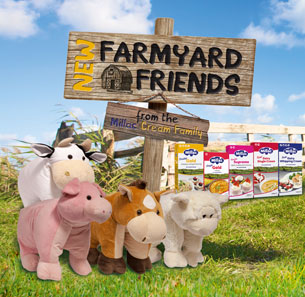 This promotion is now closed.
Due to the success of Pritchitts' 'Snip n Save' scheme in 2014, the campaign has been re-launched for 2015 to further reward caterers who have discovered the benefits of the Millac Cream Family. But the scheme is now open to ALL products in the Millac Cream Family range! These consist of: Millac Gold Double, Millac Gold Single, Millac Roselle Supreme, Millac Dairy Single Cream and Millac Dairy Whipping Cream.
There are brand new and exciting Farmyard Friends to collect – a fantastic selection of Farm Pillows! The 'Snip n Save' campaign allows caterers to claim the Farm Pillow of their choice, by simply snipping and saving 24 bottom coded pack corners* from any products within the Millac Cream Family, and posting these (along with a completed claim form) to the following FREEPOST address:
Freepost RTHJ-LREG-ACBK, Farmyard Friends Promotion
Jellybean Creative, 4 Bridge Street, Leatherhead KT22 8BZ
With a Horse, Sheep, Cow and Pig to collect before the 31st December 2015, caterers are encouraged to start saving their coded corners to complete the set.
Pritchitts is part of Lakeland Dairies, one of Ireland's largest farmer-owned dairy co-operatives. Farmyard Friends is a nod to the 2,200 family farms that help Pritchitts supply dairy products to a global customer base.
Simon Muschamp, Marketing Director at Pritchitts says; "We're proud of our Irish dairy-farm roots and Farmyard Friends is our way of saying thank you to our legion of Millac Cream Family fans. There's limited time to collect all four so don't delay in posting us your pack corners."
Whether caterers need cream for whipping, cooking or pouring, the Millac Cream Family offers the perfect solution for all their cream requirements.
* See below T&Cs / claim form for list of codes.
Terms and Conditions
This promotion is only open to bona fide caterers in the UK and Ireland.
The promotion will run from 16th Feb 2015 to 31st December 2015 and requires caterers to purchase 1ltr packs of Millac Gold Double, Millac Gold Single, Millac Roselle Supreme, Millac Dairy Single Cream or Millac Dairy Whipping Cream, in order to claim free 'Farmyard Friend Pillows'. Claims will be fulfilled during the dates of the promotion only. Any claims that arrive after 31st December for whatever reason may not be fulfilled.
Caterers can claim their Farmyard Friend Pillows by either filling in the claim form on the bottom of the ad in trade press and wholesaler communications, or by downloading the claim form from this web page, and sending the completed form (along with the required number of corners) to Freepost RTHJ-LREG-ACBK, Farmyard Friends Promotion, Jellybean Creative, 4 Bridge Street, Leatherhead KT22 8BZ.
Caterers are required to send in 24 bottom coded corners from any products within the Millac Cream Family range (1ltr packs) for each Farmyard Friend Pillow requested. Please note that by sending a claim you are accepting the terms and conditions of the promotion.
The promoter reserves the right to refuse claims from non-bona fide caterers or those claiming from outside of the UK and Ireland. All claims will be verified and if the corners are not correct (incorrect number, un-coded corner, etc.) or if the return address is not for a bona fide caterer, the claim will be null and void and the claimant will be contacted and informed of this. They will then be given the opportunity to rectify any genuine miscount or error if they wish by sending further corners if relevant.
Only entrants who complete the form in full, providing correct and legible contact details, will be counted as valid entries. The promoter accepts no responsibility for any claims which do not arrive for any reason or are illegible or defaced.
Multiple claims can be made. There is no maximum number of valid claims per address.
The collectables - Each Farmyard Friend Pillow measures 67cm x 47cm when open. Each pillow requires 24 bottom coded corners to claim. Therefore, to claim the whole set of four Farmyard Friend Pillows, caterers are required to send 96 bottom coded pack corners from 1ltr packs of Millac Gold Double (1006829/B), Millac Gold Single (1003017/A), Millac Roselle Supreme (1006830/B), Millac Dairy Single Cream (1006835/B ) or Millac Dairy Whipping Cream (1006834/C). Both old and new pack designs (and any letter at the end of code) accepted.
The Farmyard Friends will be sent out to valid claimants on a monthly basis. Please allow up to 4 weeks to receive your Farmyard Friend or Friends.
In order to submit your claim for one or more you need to read and accept these terms and conditions.
All data collected from this promotion will be kept strictly confidential, in line with the data protection act.
Recipients of the Farmyard Friends accept to be contacts for feedback on the product and may be required to participate in trade PR activity.
Employees require permission from their employer or senior manager before submitting their claim or claims.
This offer may be withdrawn at any time at the promoter's discretion without prior notice. The promoter reserves the right to substitute a cuddly toy of equal value should the designs features be out of stock for whatever reason.
Promoter: Lakeland Dairy Sales Limited, Kingfisher House, 21-23 Elmfield Road, Bromley, Kent BR1 1LT Registered in Ireland Number: 90464