Liquid:
Comelle Ice Cream Mix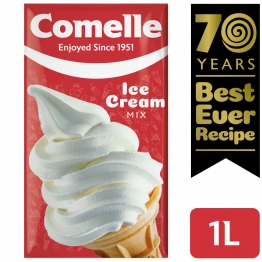 Celebrating 70 years of Comelle in 2021 with our new BEST EVER TASTING RECIPE!
Delicious, high quality creamy liquid ice cream mix
Melt in the mouth ice cream for commercial soft serve machines
Creamy, vanilla flavour
Designed to hold its shape for an enjoyable experience; perfect for takeaways, restaurants, dessert parlours and more
Meets PHE 2020 sugar guidelines
Made with milk from our Lakeland Dairies Co-Operative family farms
Easy to use
Ready to use liquid mix, simply pour into the hopper
Consistently stable; reliable time after time
Easy to store
Packaging can be recycled
Long 9 month shelf life
Once opened refrigerate and use within 3 days.
Video Inspiration
Formats
12 x 1 litre
10 litre bag in box

Perfect For...
Quick serve | Cafes | Restaurants | Leisure | Travel | Takeaways |
Suitable for: Vegetarians, Coeliac diets, Halal diets
Be inspired and watch a new soft serve sundae masterclass with William Curley, complete with free recipe guide here
Find out more about our Best Ever Recipe here
To claim your Comelle POS, click here