Portions:
Lakeland Dairies Salted Butter (Dishes)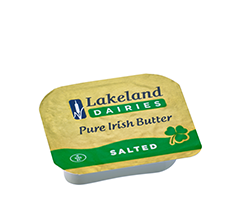 Deliciously creamy pure Irish salted butter
Rich creamy butter gently churned in Ireland
Spreads perfectly on delicious hot cross buns or crumpets
Foil lidding for freshness
Made with pasteurised cream from our Lakeland Dairies family farms
Lakeland Dairies have been lovingly churning cream into butter since 1897
Easy to use
Perfect portion size ideal for accommodation, leisure, workplace and travel
Easy to store
Refrigerate between 0-5°C
Long 7 month shelf life
Formats
4 x 96 x 8g 

Perfect For...
Cafes | Restaurants | Leisure | Travel | Accommodation | Workplace | Home |
Suitable for: Vegetarians, Coeliac diets, Halal diets
Available from most leading foodservice wholesalers. For more information contact Care@LakelandDairies.com
The exciting results of our eating out consumer survey are in! Nearly all those who responded to the survey chose butter over margarine, stating they preferred it due to the superior taste, quality and because it is a natural product.
Why not try more from our range of pure Irish butters?  We have 6.2g salted foil portions perfect for spreading on toast or crumpets and 250g Salted & Unsalted blocks perfect for cooking, baking and spreading!
To find out more about Lakeland Dairies co-operative of family farms, click here