Moovers:
Moovers Chocolate Flavoured Milk Drink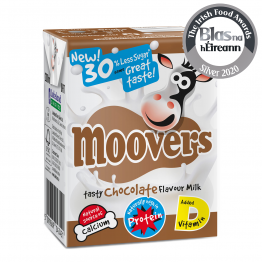 A healthy alternative to sugary drinks, ideal for lunchboxes
• Fully traceable milk from our farmer owned co-operative; Lakeland Dairies
• Contains added Vitamin D
• Now with paper straws!
• Low in fat
• No artificial flavours, colours, preservatives or sweeteners
• Carton and straw are recyclable
• Ideal for convenience retailers

Perfect For...
At Home | Retail Convenience |
Children's Drinks Menus | Lunches | Lunchboxes | Snacking | On-The-Go |
Suitable for: Vegetarians, Coeliac diets, Halal diets
Available from most selected retailers. For more information contact Care@LakelandDairies.com
Have you tried Moovers Banana Flavoured Milk Drink?