Pour & More:
Pour & More Single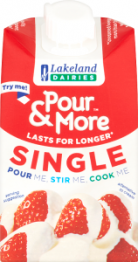 Add a little 'Ooh!' to your meal-times! A tasty, versatile alternative to single cream.
Ideal for pouring, stirring and cooking
Made with traceable dairy ingredients from our family farms
Delicious blend of buttermilk, vegetable oils and dairy cream
Pouring:
Delicious dairy taste; great for pouring over your favourite desserts, beautiful strawberries and fresh fruit salads
Stirring:
Great for adding gorgeous richness to any soup or sauce
Ideal for finishing your dishes with a stylish swirl
Cooking:
Rich creamy taste; adds extra oomph to your cooked dishes
Delicious for sweet and savoury sauces and dishes; very versatile
Easy to open, pour and reseal: 
Convenient resealable screw lid; no spills!
Recyclable packaging
Ambient product
For best results, chill before pouring
Unopened keeps more than twice as long as fresh dairy cream
Long 6 month shelf life
Once opened, refrigerate and use within 5 days

Perfect For...
Pouring | Stirring | Cooking
Suitable for: Vegetarians, Coeliac diets, Halal diets
Available from selected retailers. For more information contact Care@LakelandDairies.com
 
Try delicious Pour And More Double, great for cooking, pouring and whipping; adding a little 'Ooh!' to your meal times
For more inspiration, check out our video and find out more at www.pourandmore.co.uk