Aerosol:
Millac Roselle Supreme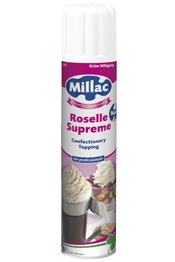 A slightly sweetened cream, instantly whipped and ready at the touch of a button.
Expert blend of skimmed milk and vegetable fat
Ideal quality finish for desserts, whipping, piping and decorating
Made with traceable dairy from our family farms
Easy to use:
Practical tulip nozzle for neater, rosette finishes
Easy portion control to help manage waste
Keeps its shape for up to 15 minutes; attractive, defined topping
Easy to Store:
Convenient can with tulip nozzle and cap
Ambient product
Long 9 month shelf life
Once opened, refrigerate and use within expiry date.
Formats
9 x 500g Can
 

Perfect For...
Health | Care | Education |  Hotel | Quick Service | Cafés | Coffee Shops
Decorating | Desserts | Drinks
Suitable for: Vegetarians, Coeliac diets, Halal diets
Available from most leading foodservice wholesalers. For more information contact Care@LakelandDairies.com
Have you tried Millac Roselle Supreme? A sweetened cream alternative for high quality dessert applications!