VIVA:
VIVA Chocolate Milk Drink - No Added Sugar 200ml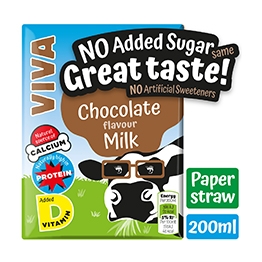 New for September 2020!
Delicious, high quality, wholesome drink. Full of the goodness of milk.
Under 100 calories per 200ml pack
Contains 30% Reference Intake for calcium; essential for growing healthy bones
Contains a massive 40% of the Reference Intake for Vitamin D which helps the body absorb calcium
Natural source of protein which contributes to the maintenance of muscle mass
A great source of Iodine and Vitamin B12
Low in fat
Best enjoyed chilled
Complies with school guidelines and NHS CQUIN framework:
No artificial sweeteners, naturally sweetened with Stevia leaf extract
No artificial flavours, colours or preservatives
Traceable high quality milk from our family farms
Single serve cartons:
Paper straw
Easy to store, easy to serve, easy to drink
Recyclable carton and straw
Long-life with convenient ambient storage
Formats
27 x 200 ml

Perfect For...
Schools | Leisure | Cafes | Travel |
Children's Drinks Menus | Lunches | Lunchboxes | Snacking | On-The-Go | Dining In
Suitable for: Vegetarians, Coeliac diets, Halal diets
Available from most leading foodservice wholesalers. For more information contact Care@LakelandDairies.com
For more information about our new VIVA Flavoured Milk Drinks, visit VIVAmilk.co.uk
Have you tried our VIVA Semi-Skimmed Milk 200ml?
Check out our NEW video introducing our great tasting VIVA Flavoured Milk Drinks!
Now available for home delivery. Find an online stockist here