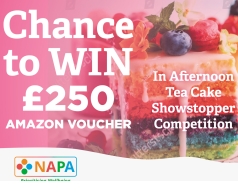 THANK YOU FOR YOUR INTEREST. THIS COMPETITION HAS NOW CLOSED.
Celebrate Afternoon Tea Week with Showstopper Cake Competition
To celebrate Afternoon Tea Week, 7th -15th August 2023, dairy expert Lakeland Dairies has partnered with the leading activity charity, National Activity Providers Association (NAPA) to launch a fun and exciting Afternoon Tea Cake Showstopper Competition.
Chance to Win £250 Voucher
Open to care setting, all entrants who submit their showstopper cake photograph will be in with a chance to win a fantastic prize of a £250 Amazon voucher. To be in with a chance to win or have to do is decorate a showstopper of a cake. Cakes can be any size or style, but they must be tea-themed and bright and beautiful. It's easy and free to enter. Simply photograph the showstoppers and enter by clicking here to download the entry form.
Inspire!
To inspire care settings, Lakeland Dairies have also created an exciting Cake Board packed with ideas on Pinterest – click here to view
Jean Cattanach, Marketing Controller, Lakeland Dairies comments "Afternoon Tea is a fantastic tradition across the Island of Ireland and what better way to celebrate than by this fun showstopper cake decorating competition. We wish every care setting good luck and look forward to seeing the creative entries."
All showstopper photographs will be displayed on NAPA's website, if sharing on social, use the hashtag #NAPAShowstopper and tag @napalivinglife @LakelandDairiesFS
Find our more!
Download the entry information details here.
Closing date 21st August – T&Cs apply.