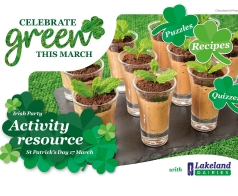 Celebrate Green This St Patrick's Day
Steeped in Irish heritage, we have launched our annual Celebrate Green campaign, taking over the month of March and culminating on St Patrick's Day on Friday 17th March 2023.
Embracing Lakeland Dairies' excellence in dairy farming, the Celebrate Green campaign highlights the importance our Irish provenance plays in crafting their high-quality dairy products which are enjoyed by chefs around the world. 
The campaign spotlights Lakeland Dairies' farming expertise and high quality dairy from their naturally grass fed cows from the co-operative's 3200 family farms across the Island of Ireland. 

Irish Party Activity Resource for Care Homes
To celebrate, Lakeland Dairies has launched our Irish Party Activity Resource for care homes. The resource is a useful tool for caterers and activity teams looking to engage with residents and create an afternoon tea party around St Patrick's Day. It includes 15 exciting recipes, including a fortified Smoked Salmon Mouse Recipe, and a unique Shamrock Drink which has been carefully created to be High in Protein. The resource is also packed with activities, puzzles, and top tips from wellbeing experts NAPA.

Jean Cattanach, Marketing Controller Lakeland Dairies comments
"We know how popular St Patrick's Day is across the UK and we're delighted to once again help inspire and support care caterers engage with their residents in a fun and exciting way."
The recipes are made using Lakeland Dairies' portfolio of high-quality dairy products including Millac Gold Double, the only cream alternative with real dairy cream and added vitamin D, and Lakeland Dairies 100% Dairy Skimmed Milk Powder, which is full of the goodness of milk and ideal for fortifying for calories and protein in care settings.
Plus FREE Piping Bags for Every Entry!