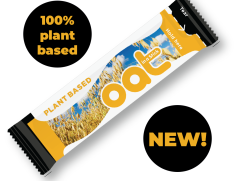 Milk in a Stick® range expands
Lakeland Dairies' Milk in a Stick® range has been successfully meeting operator and consumer needs for a decade. Its winning combination of high-quality dairy ingredients, great taste and excellent convenience has made it the go-to milk stick across hospitality, from workplace, to travel, takeaways, and accommodation.
Introducing Lakeland Dairies 'Oat in a Stick'
In a company first, Lakeland Dairies is proud to announce we have used our expertise in dairy processing to develop our first ever dairy alternative portion product – the innovative 100% plant-based 'Oat in a Stick'.
The new oat-based whitener has a great taste and a smooth texture, which blends perfectly with hot beverages to deliver an impressive consumer experience.
Available now, this is an exciting new development which helps operators to meet today's consumer demands for excellent choice of high-quality milks and 100% plant based whiteners.
Did you know...? Oat is the most popular plant-based milk!
Whilst demand for high-quality real dairy remains high, demand for plant-based dairy alternatives continues to rise. And, in 2020, Oat milk overtook almond milk as the most popular dairy alternative, with oat milk sales almost doubling between 2019-2020. (Mintel Consumer Research April 2021).
So, the innovative 100% plant-based 'Oat in a Stick' is set to be popular with consumers and means even more consumers can enjoy their coffee or tea just the way they want it; when on the go and out of home.
125 years of dairy processing expertise
Skilfully designed by our dairy experts, who have 125 years of dairy processing expertise behind them, our popular long-life ambient Milk in a Stick ® range is easy to open and easy to pour. Available in whole and semi-skimmed milk, the range is now expanding to include a brand new 100% plant-based whitener - Oat in a Stick!
"
The launch of a 100% plant-based product is an exciting step for Lakeland
Dairies. It demonstrates our ongoing commitment to support hospitality operators by helping them to meet consumer demand."
Jean Cattanach, marketing controller Lakeland Dairies
Oat in a Stick
available from January 2023.
Oat in a Stick® range is available now from all major wholesalers