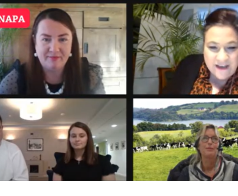 Ealier this year, dairy experts Lakeland Dairies and wellbeing experts NAPA came together to host a live stream event, 'Working Together - Positive Practice for Activity and Catering Teams.' The event brought together care home catering and activities teams to share best practice relating to food-based activity.
The hosts were also joined by special guests Charlotte Parton, Experience Coordinator and Nelko Yordanov, Catering Manager from Belong, who sahred amazing real-life examples of best practice.
During the live event, the panel exclusively revealed the results from their National Care Home Consultation Survey which was completed by activity providers and caterers between November 2022 and January 2023. One of the outcomes recognised in the feedback from the National Care Home Consultation Survey was a desire for written guidance and sharing of best practice. To meet this need Lakeland Dairies and NAPA jointly launched their new toolkit at the event.
The toolkit, named 'Toolkit for Activity Providers and Catering Teams', has been created specifically to support those providing food-based activity provision and includes a range of helpful guides and advice. This includes an audit tool for food-based activity provision, guidance on a 'whole home' approach, a role appreciation task, a case study, top tips and several practical and easy to follow templates

Jean Cattanach, marketing controller Lakeland Dairies explains; "We are delighted to once again partner with NAPA, this time to create a practical toolkit to empower catering and wellbeing teams to positively impact the everyday wellbeing of individuals. The toolkit represents a significant step forward in supporting catering and activity teams work effectively together to plan and deliver fabulous food-based activities in care settings. We believe in the impact these teams can have when they work together"