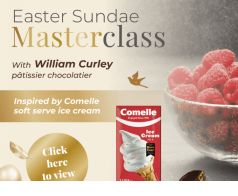 Be Inspired this Easter and Beyond
William Curley, the most awarded Chocolatier in the UK and author of Couture Chocolate has teamed up with dairy experts Lakeland Dairies and their Comelle soft serve ice cream to create a truly inspirational ice cream sundae for Easter.

William Curley
"When I start to create something special, I look for the best tasting ingredients available. Comelle soft serve ice cream is an exciting product to work with because it's so easy to elevate into something spectacular."
Elevate Desserts to Elevate Profits
With consumers willing to pay a premium for treats, making an incredible dessert from soft serve ice cream is a clever way to transform both dishes and profit.
Be inspired by the William Curley Masterclass and help transform profits by around 600%*

Plus 5 chances to win!
Enjoyed since 1951, Comelle soft serve ice cream mix is made with high-quality milk from Lakeland Dairies 3200 family farms. The perfect base for delicious elevated desserts, Lakeland Dairies are giving away 5 x 5 cases of Comelle ice cream mix. Enter now https://bit.ly/3KSNYXh
For William Curley's Comelle Easter sundae recipes and techniques download the guide or masterclass


*Based on a soft serve ice-cream portion in its simplest form retailing around £1.50 being elevated into an Easter Sundae Special.