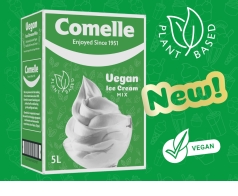 Lakeland Dairies Launch Plant Based Vegan Ice Cream Mix
It's landed!
We're delighted to announce our brand new Comelle Vegan Ice Cream Mix has launched and is available to buy here
Soft Serve Experts
With more than 70 years expertise in creating delicious, well-loved soft serve ice cream mix, we have drawn on our sector knowledge to launch a brand-new Vegan Ice Cream Mix, under our trusted Comelle brand.
Introducing NEW Comelle Vegan Soft Serve Ice Cream Mix
Deliciously smooth
Delicious vanilla flavour
100% plant-based Vegan ice cream mix
Can also be used to create thick shakes
Suitable for those choosing a plant-based option and for those who are lactose intolerant.
Consumer Choice
Comelle Vegan Ice Cream Mix delivers greater choice for operators and consumers. 
Jean Cattanach, Marketing Controller Lakeland Dairies explains: "As experts with a long and renowned heritage in soft serve ice cream mix, we are extremely well placed to deliver ice cream products which not only taste great but also offer consumer choice. With the development of our new Comelle Vegan Ice Cream Mix we are supporting operators to offer a wide choice of high-quality soft serve ice cream options, which in turn helps them to meet consumer demand and drive revenue."
Comelle soft serve for every business
Our family is growing! There is now three great Comelle Ice Cream Mixes to choose from
Comelle Ice Cream mix enjoyed since 1951
NEW Comelle Dairy Ice Cream Mix
NEW plant-based Comelle Vegan Ice Cream Mix
Website www.lakelanddairies.com/foodservice
Facebook: @lakelanddairiesfoodservice
Twitter: @lakelandFS