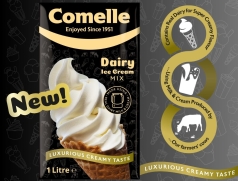 New Comelle Dairy Ice Cream Mix is here!
The wait is over!  We're delighted to announce our brand new Comelle Dairy Ice Cream Mix has launched and is available now!
Introducing NEW Comelle Dairy Ice Cream Mix
Luxurious Creamy Taste
Fantastic Dairy Flavour
Perfect Sweetness Balance
Lovingly Made with Real Dairy and Cream
Easily Create Luxurious Cones, Tubs and Desserts
From Dairy Experts Lakeland Dairies
Jean Cattanach, Marketing Controller Lakeland Dairies adds. "Demand for high-quality, flavoursome desserts continues to rise and Comelle Dairy Ice Cream Mix has been expertly crafted to help operators easily create high-quality cones and elevate desserts. Soft serve ice cream is unique in that it can only be enjoyed out of home, and the luxuriousness of Comelle Dairy Ice Cream Mix means operators can easily create stand-out desserts which offer high profit margins."
 
Comelle soft serve for every business
Our family is growing! There is now three great Comelle Ice Cream Mixes to choose from
Comelle Ice Cream mix enjoyed since 1951
NEW Comelle Dairy Ice Cream Mix
NEW plant-based Comelle Vegan Ice Cream Mix. 
Available in 12 x 1L packs and is available now from wholesalers.  It replaces Lakeland Dairies SpringCool Ice Cream Mix.
Website www.lakelanddairies.com/foodservice
Facebook: @lakelanddairiesfoodservice
Twitter: @lakelandFS