Dairy Cream:
Lakeland Dairies Dairy Whipping Cream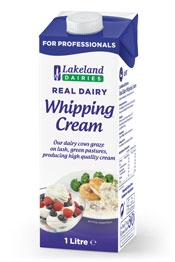 Adds long life convenience for professionals. An indulgent dairy cream with 35% dairy fat.
Adds depth and richness to the flavour and texture of any dish
Made from 100% traceable cream from our family farms
Ideal quality finish for whipping, pouring and cooking
Consistent quality throughout the year
Easy to use:
Delicious dairy taste, great for pouring
Ideal for sweet and savoury sauces and dishes; very versatile
Can be frozen in dishes and held in bain-marie; extremely flexible
Adds a lovely finishing dairy note to soups and more
Microwaveable; convenient to use
Easy to Store:
Convenient screw lid for easy resealing
Recyclable packaging
Ambient product
Long 6 month shelf life
Once opened, refrigerate and use within 3 days
Formats
12 x 1 litre 

Perfect For...
All Channels |
Whipping & Piping | Cooking & Baking | Pouring | Gas Whipper |
Suitable for: Vegetarians, Coeliac diets, Halal diets
Available from most leading foodservice wholesalers. For more information contact Care@LakelandDairies.com
Craft Guild of Chefs approved product
Have you tried our Lakeland Dairies Instant Whipped Dairy Cream; perfect for finishing desserts and hot drinks!