VIVA:
NEW! VIVA Vanilla Ice Cream Milk Drink - No Added Sugar 200ml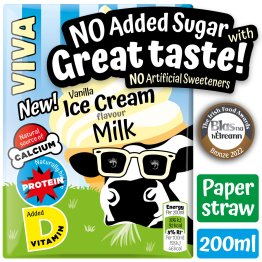 New for 2022!
Delicious, high quality, wholesome drink. Full of the goodness of milk.
Under 100 calories per 200ml pack
Contains 30% Reference Intake for calcium; essential for growing healthy bones
Contains a massive 40% of the Reference Intake for Vitamin D which helps the body absorb calcium
Natural source of protein which contributes to the maintenance of muscle mass
A great source of Iodine and Vitamin B12
Low in fat
Best enjoyed chilled
Complies with school guidelines and NHS CQUIN framework:
No artificial sweeteners, naturally sweetened with Stevia leaf extract
No artificial flavours, colours or preservatives
Traceable high quality milk from our family farms
Single serve cartons:
Paper straw
Easy to store, easy to serve, easy to drink
Recyclable carton and straw
Long-life with convenient ambient storage
Formats
27 x 200 ml
12 x 200ml

Perfect For...
Schools | Leisure | Cafes | Travel |
Children's Drinks Menus | Lunches | Lunchboxes | Snacking | On-The-Go | Dining In
Suitable for: Vegetarians, Coeliac diets, Halal diets
Available from most leading foodservice wholesalers. For more information contact Care@LakelandDairies.com
For more information about our new VIVA Flavoured Milk Drinks, visit VIVAmilk.co.uk
Have you tried our VIVA Chocolate Flavoured Milk 200ml
Check out our video introducing our exciting new VIVA Vanilla Ice Cream Flavoured Milk Drink!