Cream of Butternut Squash Soup with Parsnip Fritter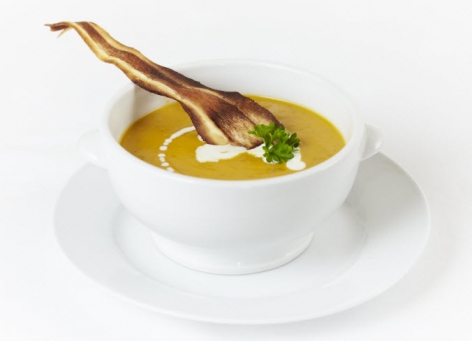 Serves: 12
Ingredients
300g Pritchitts Cooking
2 butternut squash, cut into large chunks
2 garlic bulbs
4 white onions
large bunch of fresh rosemary
large bunch of fresh thyme
1 litre liquid vegetable stock
150ml olive oil
3 pinches pepper
3 pinches salt
4 parsnips, for the fritters
Method
Peel and clean the vegetables. Cut into chunks and and place in a large bowl.
Add the herbs, spices and olive oil. Mix together by hand and spread onto a baking tray.
Place in a hot oven and agitate the vegetables occasionally  to avoid burning. Once all the vegetables are tender, remove from the oven. 
Remove the herb branches, and blend all the vegetables to obtain a smooth thick puree.
Heat the vegetable puree and add the Pritchitts Cooking and vegetable stock until the desired consistency is reached.
Peel and clean the parsnips and cut into thin slices using a large potato peeler. Gently fly the thin slices of parsnip until golden brown. 
Serve the soup in warmed bowls and garnish with the parsnip fritters.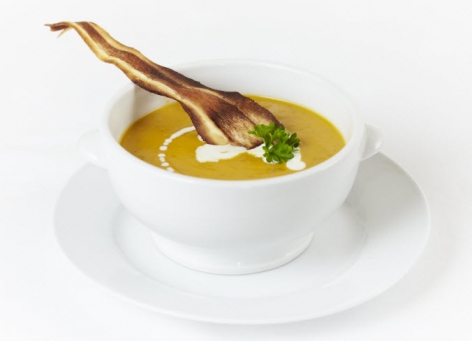 Products Used...