Indian Shepherd's Pie with Cheddar & Coriander Crumble, served with Korma Sauce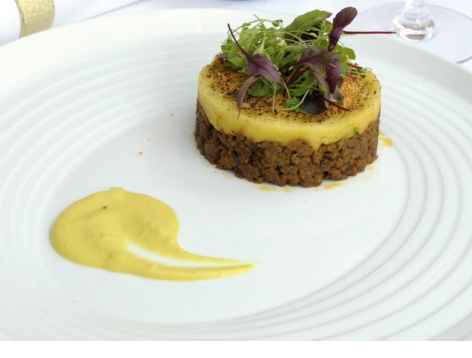 Serves: 4
Ingredients
Shepherd's Pie Mix
60ml oil
3 cardomom pods
1 onion, chopped
2 pinches salt
15g ginger garlic paste
15g ground coriander
8g ground cumin
3g red chilli powder
8g garam masala powder
3g ground black pepper
450g Cornish minced lamb
150ml lamb stock
30ml Worcestershire Sauce
1 chopped tomato
100g tinned tomatoes
15g peas
sprinkle of fresh chopped chives or parsley (optional)
Mashed Potato
500g potatoes, peeled, boiled and mashed
250ml Viva Whole Milk
50g Lakeland Dairies Butter
pinch of salt
Korma Sauce
30g ghee
3g cumin seeds
4 crushed cardamom pods
8g ginger paste
30g boiled onion paste
15g cashew nut paste
120ml Millac Gold
2g ground white pepper
1g cardamom powder
4g turmeric powder
30g Lakeland Dairies Butter (cut into cubes)
Method
Shepherd's Pie Mix
Heat oil in a pan, sauté the onions and cook until softened and beginning to go golden brown. Add all the spices and cook for 5 minutes.
Add the mince, sauté, then add fresh and tinned tomatoes, peas and stir.
Add lamb stock and bring to the boil then simmer until all ingredients are soft.
Once cooked, add the Worcestershire sauce. Check and adjust the seasoning to your taste.
Mashed Potato
Mash the potatoes with the Viva Whole Milk, Lakeland Dairies Butter and pinch of salt.
Korma Sauce
Heat the ghee in a pan and add the cumin seeds and cardamom pods. As they begin to crackle, add teh ginger paste. Sauté for 5 minutes, until the raw aroma of ginger goes away.
Add the boiled onion paste stirring constantly until all the moisture has evaporated, being careful not to let the onion discolour.
Add the spices, reduce the heat and allow to cook for 15 minutes.
Stir in the cashew nut paste and Millac Gold. Pour in 100ml water and bring to the boil.
Add the white pepper and cardamom and blitz with a hand blender. Strain the sauce through a fine sieve into a clean pan and bring to the boil. Just before serving add the cubes of chilled butter.
Cheese Crumble
Mix together all the ingredients
To assemble:
Take a 6cm chef ring, add the lamb mix and fill it three quarters of the way. Press it tightly.
Add the mashed potato and fill to the brim.
Carefully remove the ring, sprinkle the crumble and brown using a blowtorch.
Add some micro herbs on top, spoon out the korma sauce on side.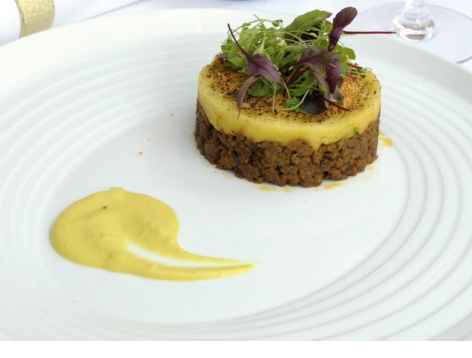 Products Used...