Salmon & Courgette Baked Pasta with Filo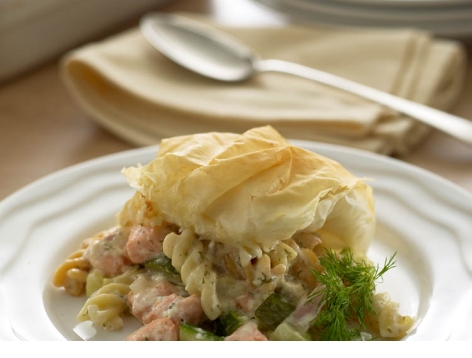 Serves: 10 - 12
Ingredients
700g tricolour fusilli pasta, cooked
500g salmon, boneless, skinned and diced 2cm
300g courgettes, diced 1cm
120g Lakeland Dairies Butter
250g red onion, finely diced
50g flour
500ml Millac Gold Double
300ml water
4 tbsp lime juice
4 tbsp fresh dill, chopped
100g strong cheddar cheese, grated
White pepper and salt to season
250g (12 sheets) filo pastry
Method
Preheat the oven to 180°C.
Be careful not to overcook the pasta when boiling. Once finished, place the refreshed pasta into the serving dish, add the salmon and courgettes and place in the fridge.
Take half of the butter and place in a thick bottomed pan over a low heat, add the onions and sweat until tender. Add the flour and mix in.
Pour in the Millac Gold Double then the water, bring to the boil and simmer for 2 minutes.
Remove from the heat and add in the lime juice, dill and cheese. Correct the seasoning with salt and pepper and put aside.
Once the sauce has cooled down (15-20 minutes) pour on top of the pasta.
Lay out the filo pastry and melt the remaining butter. Brush each sheet of filo with butter, pick it up from the middle and make a loose ball, placing each one on top of the sauce.
Place in the oven and cook for 35-40 minutes, then remove and serve.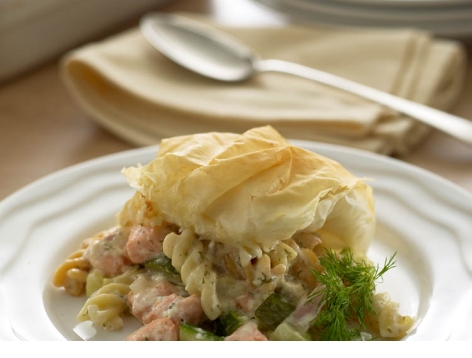 Products Used...