Tandoor Spiced Chicken, Asparagus Kichidi, Kasoori Methi Flavoured Makhni Sauce, Red Chard & Mooli Relish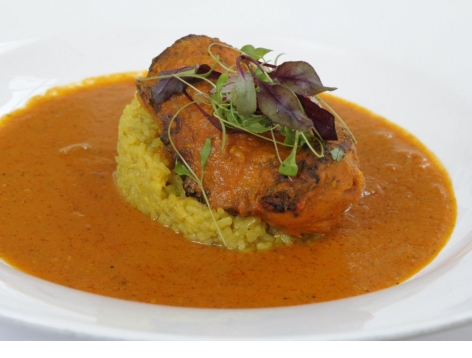 Serves: 2
Ingredients
Tandoori spiced chicken breast:
2 chicken breasts (off the bone)
12g cumin powder
14g coriander powder
80ml Greek yoghurt
pinch of salt
20g ginger garlic paste
5g garam masala powder
4g kasoori methi
50g mustard oil
20ml lemon juice
Mooli relish:
40g mooli
20ml olive oil
2.5g chat masala
2 baby red chard leaves
Makhni sauce:
250g chopped tomato puree
3g whole garam masala
60g Lakeland Dairies Butter
80ml Millac Gold
4g chopped garlic
2g chopped green chilli
4g turmeric powder
8g cumin powder
4g kasoori methi
pinch of sugar
pinch of salt
40g cashew nut paste
Asparagus Kichidi:
30ml vegetable oil
15g Lakeland Dairies Butter
2g cumin seeds
5g chopped garlic
5g chopped ginger
6g chopped green chilli
1 medium sized chopped red onion
4g turmeric powder
150g basmati rice
600ml vegetable stock
25ml Greek yoghurt lightly whisked
15g chopped coriander
80g chopped asparagus
50g mixed lentils
Method
Tandoor spiced chicken breast
De-bone the chicken breast and chicken thigh.
Mix all the spices in a bowl and whisk.
Rub the marinade into the breast and keep aside in a fridge for at least 3 hrs.
Thread the chicken on to skewers and place them over a roasting tin so the chicken is suspended above it. 
Roast in an oven pre heated to 190 C for about 10 minutes, basting occasionally with the juices.
OR
Skew and cook in a traditional tandoor oven.
Remove the chicken from the oven and leave to rest for 5 minutes before serving.
Moori relish
Toss together all the ingredients and set aside.
Makhni sauce
Heat oil in a sauce pan,  add the whole spices followed by garlic, then add the chopped tomato puree and water, reduce the sauce.
Check for seasoning, add Millac Gold, and kasoori methi and stir to finish.
Asparagus kichidi
Heat oil and butter in a pan and add the cumin seeds.
As the seeds splutter, add the garlic and sauté.
Add the ginger, chilli and red onion and sauté for 2 minutes.
Add the turmeric and rice/lentils and cook for 2 minutes longer.
Pour in the warmed vegetable stock, bring to boil then reduce the heat and simmer until the stock has been absorbed and the rice is almost done.
Add the yoghurt, season and continue cooking till the rice is tender. Finally, stir in the butter and chopped coriander.