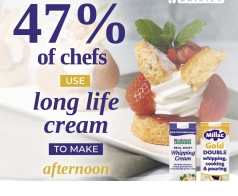 Afternoon Tea Week which occurs annually in August, celebrates the British tradition of Afternoon Tea. Dairy experts Lakeland Dairies have partnered with the leading chef organisation, the Craft Guild of Chefs to discover what chefs really think of Afternoon Tea. The findings reveal:
• 47% of chefs use long life cream to make Afternoon Tea items
• 65% of chefs said scones are their favourite Afternoon Tea sweet item
• The top three Afternoon Tea flavour trends are Floral, Asian, and Citrus
• Highly skilled items to create include Macarons, Laminated Pastry and Tempered Chocolate
• Keeping items identical and uniform is the leading challenge for working in miniature
High-quality ingredients
Cream is a key ingredient of many afternoon tea menus and the survey found 47% of Chefs often use long life cream to make afternoon tea. The top three most valuable features of cream for Chefs are its taste, performance, and quality, with nearly half of Chefs (49%) agreeing it is important to buy dairy products that come from Northern Ireland (UK) or Ireland. The survey also found whipping cream is tied first with preparing decorations in being voted the process or ingredient with the most wastage.
Jean Cattanach, Marketing Controller at Lakeland Dairies comments, "Long life dairy is an excellent choice for pastry chefs due to its great taste and fantastic functional performance. The delicate and complex nature of afternoon tea menus requires not only a high level of skill from chefs, but incredible ingredients that deliver taste performance and quality, like our Lakeland Dairies high quality creams and butters, and Millac cream alternatives."


Chef's preference
The Lakeland Dairies' chef survey showed scones are chefs' favourite afternoon tea sweet item to enjoy (65%), followed by Mille-feuille (9%), and lemon drizzle cake (6%). It also found Chefs top three sandwich fillings are salmon and cream cheese, egg mayonnaise and beef and horseradish.
When creating afternoon tea menus chefs are still using traditional flavour pairings, whilst also taking international inspiration. Chefs said the top three most popular current flavour trends are floral, Asian and citrus. Salted caramel, coffee and almond were also noted as current flavour trends. 
Matt Owens, Craft Guild of Chefs Chairman comments.
"There are many exciting innovations happening in afternoon tea menus right now. Whilst chefs continue to produce traditional items such as Victoria sponge cakes and scones, they are also crafting new modern flavours drawing on Asian and Middle Eastern influences as well as bringing in notes of floral and citrus."
He continues:
"Creating an exceptional afternoon tea menu takes a high level of culinary skill. Working in miniature, creating perfect pastry, precision cutting, and the pressure of service is extremely challenging, however the results can be spectacular."

Menu creation
When designing menus for afternoon tea, balancing the number of items on the menu, allergen requirements, and culinary skills of the kitchen team were voted as the top three challenges.
Many afternoon tea menu items are produced as miniatures, which can bring complexity. Chefs said the leading challenge for working in miniature is keeping items identical and uniform, as well as keeping toppings clean when cutting, and time management. Many chefs commented that using moulds was essential to retain uniformity.
Chefs agreed a high level of culinary skills are required to produce afternoon tea, with the top three high skill level items being macarons (65%), laminated pastry (such as croissant and puff), and tempered chocolate. Over 50% of chefs also thought mirror glaze and choux pastry required a high skill level, alongside the modern need to create beautiful looking food for Instagram.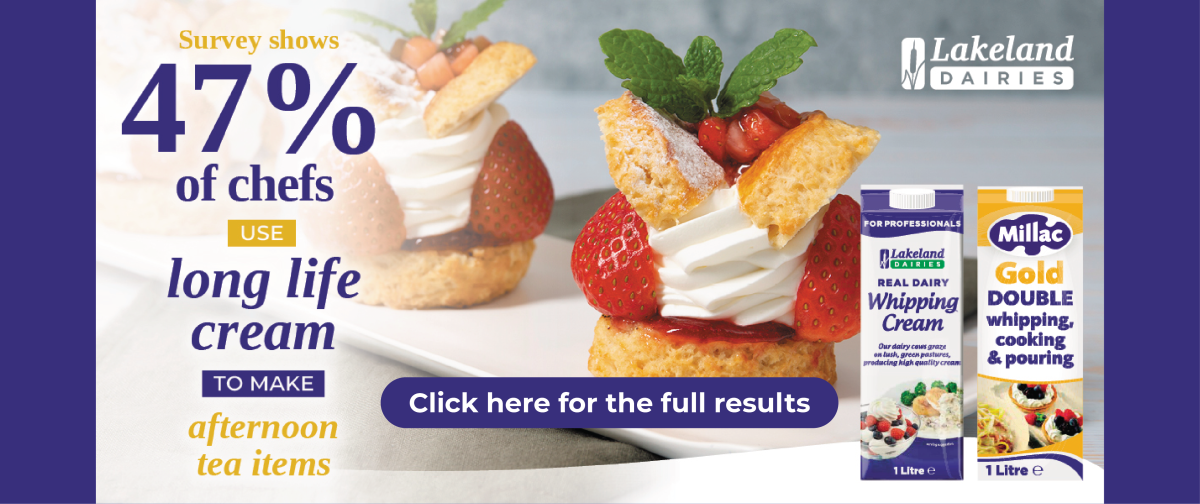 *Craft Guild of Chefs members were surveyed August 2022