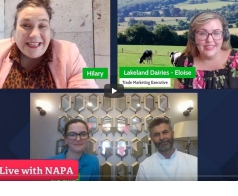 Afternoon Tea Week Webinar with NAPA
To celebrate Afternoon Tea Week, 7th -15th August 2023, dairy expert Lakeland Dairies has partnered with the leading activity charity, National Activity Providers Association (NAPA) to help deliver an Afternoon Tea Week Webinar, watch here.
They are joined on the webinar by Chris and Ellie from Cavendish Park by Majesticare, who share their tips and experiences of celebrating Afternoon Tea Week.
Both Lakeland Dairies and NAPA love Afternoon Tea and feel excited about all the opportunities a week of tea-based activities and events can inspire.
The webinar is just one part of the resources available which Lakeland Dairies helped create with NAPA.
Find out more
For our Afternoon Tea Week Resource or Showstopper competition please click here.