Ulster Crab Risotto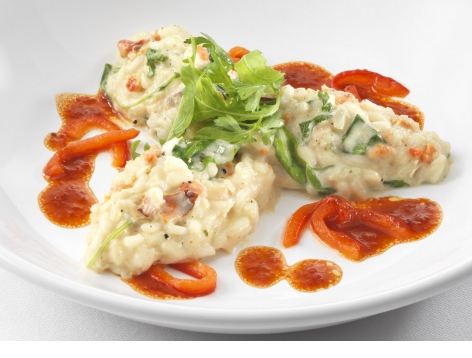 Serves: 10
Ingredients
2 large Portrush Brown Cock Crabs
4 litres pre-prepared crab stock
500g Lakeland Dairies Butter
400ml Lakeland Dairy Whipping Cream
1kg arborio rice
8 banana shallots
200g wild rocket
300g Parmesan cheese (Parmigiano Regianno)
micro red amaryth cress and parsley to garnish
4 red peppers
50ml aged balsamic vinegar
100ml olive oil
Method
In a large, flat-bottomed pan melt 250g of Lakeland Dairies Butter. Add the shallots and braise before stirring in the rice.
Pour in the crab stock, a little at a time, until the rice is half cooked. Remove from the heat.
Place 2 red peppers in the oven with a little olive oil, salt and pepper. When they have blistered all over, remove them from the oven, cool and deseed. Remove skins with a small prep knife and cut into thin strips (equal lengths).
Deseed the remaining 2 red peppers and blend before passing through a fine chinoix or muslin. Discarding the pulp, transfer the juice into a small pan, adding the balsamic vinegar and reduce to a thick consistency. Allow to cool, before whisking in olive oil to make a pepper dressing.
Purée the brown crab meat and pass through chinoix to remove any shell. Set aside.
Pick out the white crab meat, ensuring there are no pieces of shell remaining. Mix together with the brown meat.
Place the remaining 250g Lakeland Dairies Butter into a large pan and add the half-cooked rice mixture. When it is almost cooked, add the Lakeland Dairy Whipping Cream, Parmesan and crab meat and simmer gently.
Season to taste. Add the rocket and stir until soft.
Serve the risotto as 2 or 3 quenelles in the centre of a suitable bowl.
Arrange slices of red pepper around the risotto and drizzle the red pepper dressing on top before garnishing with the amaryth and parsley.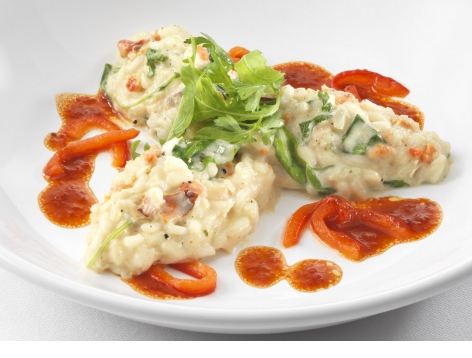 Products Used...