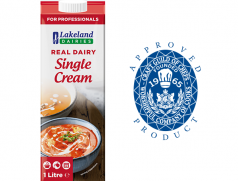 Lakeland Dairies' new real dairy single cream has secured the coveted 'approved product' status from the Craft Guild of Chefs. The 100% dairy cream is ideal for savoury and sweet dishes and its long-life qualities make it essential to busy professional kitchens.
Andrew Green, Craft Guild of Chefs CEO says: "It's fantastic to see yet another product successfully complete our endorsement scheme. The Lakeland Dairies Real Dairy Single Cream was described by our chef judging panel as having 'good colour and flavour which cooks well and enriches'. They also noted its 'good taste and consistency." 
Long life dairy cream is fresh cream which has been carefully crafted and treated to give a longer life for added convenience. When asked how Lakeland Dairies Real Dairy Single Cream compared to fresh cream the judges noted "it has a longer life and cooks better'. Adding 'it has good natural colour and aroma' and 'held well and did not split'.
In a recent survey of Craft Guild of Chefs members, 70% of respondents said they used long life creams at work, with 91% agreeing long life creams have excellent properties for professional cooking. Long life single cream is commonly used across foodservice for pouring and cooking, in particular in Indian restaurants where it is used to add depth and richness to dishes.
Jean Cattanach, Trade Marketing Controller at Lakeland Dairies, comments: ''We are delighted our new real dairy single cream has been awarded this accolade. As dairy experts we continue to deliver high performing professional products with great taste and it's wonderful this has been recognised by the leading UK chef organisation."
The cream will be able to display the desirable Craft Guild of Chefs Product Endorsement logo on the label, serving as a guarantee to professional chefs of their quality, taste, and performance.
For more information on Lakeland Dairies Real Dairy Single Cream and our entire range of creams and cream alternative, click here