Congratulations to the Winner of PSC Care Catering Awards, Sponsored by Lakeland Dairies!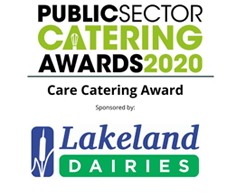 Date: 17th September 2020
We are delighted to be the sponsor of the Care Catering Awards category in the Public Sector Catering Awards. This award recognises the amazing hard work of individuals, teams, companies and organisations in care settings. The award is particularly significant in 2020; an exceptionally difficult year for the sector.