Date: 17th September 2020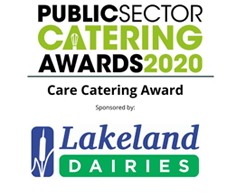 We are delighted to be the sponsor of the Care Catering Awards category in the Public Sector Catering Awards. This award recognises the amazing hard work of individuals, teams, companies and organisations in care settings. The award is particularly significant in 2020; an exceptionally difficult year for the sector.
A massive congratulations to all the nominees and to the winner:
• Signature Dining - Winner
• Alan Bulmer - Anchor Hanover
• Care UK
• Linda Davies - Thurlaston Meadows Care Home
• Tony O'Hara - South Eastern Health and Social Care Trust
The winner, and nominees, were selected based on exceptional delivery of resident mealtimes in care settings; significantly improving catering services for clients and residents. We are thrilled to hear that all the nominees champion the importance of food in the care of residents, with a focus on nutrition and hydration.
Due to the effects of Covid-19, the awards, which are usually hosted at a live event in April, were postponed to a virtual event on September 15th.
Congratulations once again to the winner and all the nominees!
We are delighted to be sponsoring the Care Catering award again in 2021, recognising the amazing work in the sector.