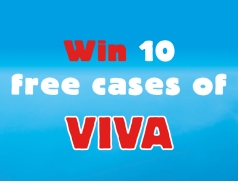 Lakeland Dairies is helping school caterers celebrate the start of a new school year by offering 10 chances to win 10 cases of great-tasting VIVA Flavoured Milk Drinks - No Added Sugar.
VIVA Flavoured Milk No Added Sugar is preferred by 3 in 4 kids* and that's why it's the No#1 Flavoured Milk in Schools. It's available in three great flavours, including a delicious strawberry which is bursting with taste, a creamy banana, and a best-selling delicious and rich chocolate flavour. And now, new from last year, they are all created with no added sugar, making them a firm favourite with school children.
Jean Cattanach, Marketing Controller at Lakeland Dairies, comments:
''We are delighted to continue demonstrating our support for the education sector and school caterers alike."
With a whopping 74% of kids preferring the taste of our VIVA Flavoured Milk Drinks – No Added Sugar*, what better way to start the school year than by winning 10 cases of VIVA Flavoured Milk drinks!"
School compliant and packed in single serve 200ml recyclable cartons, VIVA No Added Sugar was the first flavoured milk provider to use paper straws - saving an equivalent of 6.5 tonnes of plastic every year!
Milk is a natural source of calcium and essential for children to grow healthy bones. VIVA adds vitamin D to its drinks to amplify the natural benefits of calcium. With each 200ml pack of VIVA providing 30% RDI of calcium and 40% RDI for vitamin D, it is a great option for all school drinks menus.
Made with fully traceable semi-skimmed milk from Lakeland Dairies' 3200 family farms, the milk is low in fat and suitable for vegetarians.
The competition will run from 01.09.2021 until 30.09.2021 and winners will be selected at random when the competition closes. There are ten prizes of ten cases of VIVA Flavoured Milk Drinks - No Added Sugar 200ml. The competition is open to school caterers and is free to enter. Full T&C available