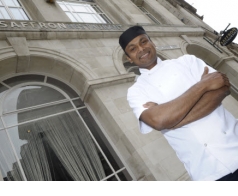 Set in a salubrious side street of Birmingham's business district sits Saffron, the Michelin guide recommended realm of the second city's very own 'spice king', Sudha Shankar Saha.
The restaurant is the jewel in the crown of the four-site Saffron group and attracts diners from far and wide keen to sample his "Indian food with finesse."
For the last seven years at the AA Rosette, Good Food and Hardens Guide-accredited restaurant, the seasoned chef and star of television shows including Iron Chef, Britain's Best Dish and CBBC's forthcoming Disaster Chef, has been steadily building a reputation for his refined style and for working with quality ingredients and local, seasonal produce. 
"I want to try and educate people about the finer side of Indian food, the delicate authentic spices, and about our ethos" says Sudha, "Birmingham is well known for its Balti triangle (the city's famous collection of Indian restaurants), but using such produce is quite unusual for an ethnic restaurant in this city. In the 25 year history of the Good Food Guide Saffron was the first Indian restaurant to win the reader's choice award, so we definitely have a reputation to uphold."
One product that Sudha is happy to stake his reputation on is Pritchitts Millac Gold.
The Craft Guild of Chefs'-approved product can be used for cooking, whipping or pouring, is ideal for sweet or savoury dishes and helps to save time and eliminate costly wastage in the kitchen.
"I've been using Millac Gold with kebabs in the tandoor and my puddings; it's much more versatile than fresh cream.  I also use it in all of my cream based sauces; it's great with makhni (a creamy, tomato-based sauce from northern India) and korma – it holds the spices absolutely brilliantly." he adds.
Just some of the dishes created by Sudha using Millac Gold include: Tandoor  spiced  chicken, asparagus kichidi and kasoori methi flavoured makhni sauce, red chard  and mooli relish, a trio of bhapa doi, lime jelly and spiced raspberry compote and a unique take on an Indian shepherd's pie with a classic korma sauce.
One of the key benefits of Millac Gold is the fact it won't split, even when added to acidic or alcoholic ingredients, making it perfect for use in sauces. "It just doesn't split" says Sudha, "Sometimes it can take two and a half hours to make a sauce from scratch; so the last thing you want is it splitting. Millac Gold gives such fantastic results, it can't go wrong, it's got a really good texture and a great flavour – just as good as fresh dairy cream – it's top drawer!
With such high standards and the Saffron reputation to uphold, Sudha was impressed with the levels of consistency offered by Millac Gold. "Consistency is really important to me and Millac Gold really helps me to attain the levels I am looking for – it's a wonderful experience working with it – you get the same results every time."
As he stands over the stove, perfecting yet another authentic sauce, Sudha muses over his craft and offers advice for other ethnic chefs, "Work hard – come out of your shells and push the boundaries – use quality produce – be more imaginative, talk with your food. The versatility of Millac Gold really helps me to achieve this – all chefs should try it."
View Sudha's recipes by clicking below:
Tandoor Spiced Chicken, Asparagus Kichidi, Kasoori Methi Flavoured Makhni Sauce, Red Chard & Mooli Relish
Indian Shepherd's Pie with Cheddar & Coriander Crumble, served with Korma Sauce