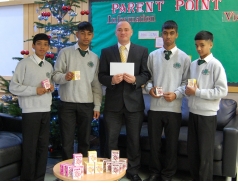 The prize – awarded to Bow School for registering the most entries to Viva Daily Win during National School Meals Week – was presented by Mike Morris, Pritchitts Sector Development Manager, to a select group of Sports Captains from the school. These individuals will have the privilege of deciding how to spend their winnings across their school's PE department.
Viva Daily Win has grown into the education sector's biggest promotion in just three years –   offering pupils the chance to win an iPod shuffle every school day simply by entering the code found on their Viva Milk carton.
During national School Meals Week (5th-9th November) Pritchitts doubled the prizes on offer, giving away two iPod shuffles and awarding £200 worth of sports equipment vouchers to the school with the most entries.
"It's fantastic to have won in a nationwide competition," commented Jim Morris, Assistant Head Teacher at the Tower Hamlets school. "With 650 pupils, we're actually quite small so it goes to show how popular Viva Milk is. Sport forms a very important part of the school curriculum at Bow."
Simon Muschamp, Head of Marketing at Pritchitts, said: "Viva Daily Win has proved an effective way of encouraging secondary school children to drink more milk and this year we wanted to support National School Meals Week in its efforts to promote healthy eating by giving pupils an even better reason to drink milk. We've also recently added Vitamin D to Viva Milk, making it an even stronger proposition." 
Vitamin D (usually produced by our skin by the sun's UVB light) plays a key role in the development of a strong immune system and healthy bones – just what the Bow pupils need to tackle the rugby games that Jim says tops the list of favourite physical activities at the school. He added that BMXing has soared in popularity since last year, inspired by 2012's summer sporting bonanza and the school's proximity to event's international BMX arena.
Pupils can still win an iPod Shuffle each school day in the regular Viva Daily Win, which kicked off in May and will close on 14 December 2012. Additionally, the first 10 schools to reach 100 individual entrants will each scoop £100-worth of sports equipment vouchers. 
Viva Flavoured Milk complies with school guidelines, contains no artificial colours, sweeteners or preservatives, and comes in Strawberry, Banana and Chocolate flavours. 
PLEASE NOTE: The Viva Daily Win 2012 competition has now ended but will begin again from 1st May 2013.