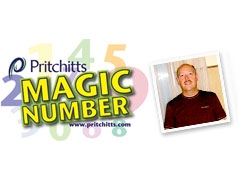 The head chef at a care home has had his creativity rewarded with an Apple iPad courtesy of Pritchitts Magic Number promotion.
Nick Ekland from Dunkirk Memorial House in Taunton, found his 'magic number' – a unique pack code found across the entire Pritchitts range – on a catering pack of Creative Base, Pritchitts quality stable dairy base made with gelatin and buttermilk. The product is ideal to meet the specific dietary needs of residents. 
"It feels amazing to have won – it came completely out of the blue," said Nick, who went online to register his details and the unique on-pack code.
"I have used Creative Base since it first came out – it's an amazingly versatile product. We have around 60 people to cook for, so consistency is essential. Some of our residents also have very specific requirements and are at a heightened risk, in terms of what they can and can't eat. Creative Base is very stable and gives me the peace of mind I need to create dishes they love."   
And it's not just Creative Base; Nick and his small catering team also use Pritchitts cream blend, Roselle Supreme and Lakeland Dairies Butter in their day to day operation.
Pritchitts' Head of Marketing, Simon Muschamp, said: "Congratulations to Nick. The beauty of the 'Magic Number' promotion is that it is open to anybody using our products. Care caterers are some of the unsung heroes of foodservice, so it's great that we can go some way to recognising and rewarding their hard work.
There are still six more iPads to give away in 2012, we urge caterers to check their on-pack codes and enter them online to see if they are a winner. It really is that easy!"
A brand new iPad is up for grabs every month with Pritchitts Magic Number promotion with a top-of-the-range 13-inch 256GB MacBook Air offered as a grand prize at the end of the year.
PLEASE NOTE: Pritchitts Magic Number competition has now closed.