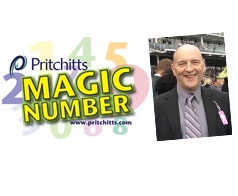 John Brereton of Alexandra Court Care Home, Glasgow, found his magic number on a pack of Millac Gold, Pritchitts leading cream alternative. He entered the unique product code online and was rewarded with the latest Apple iPad.  
A keen advocate of Pritchitts products, John says he always has Millac Gold in the fridge and uses it in a range of ways and for a number of dishes.      
"I use it for breakfast, lunch and dinner as it is so consistent. A lot of our residents have to have fortified diets – Millac Gold is perfect for catering for their very specific needs. 
"With a background as a pastry chef, it's great for me as it can be used in sweet and savoury dishes. You can whip a really good volume out of it and the next day the air stays in."
Commenting on his win John added: "It's excellent and really unexpected."
Pritchitts Head of Marketing, Simon Muschamp, said: "Congratulations to John on his deserved win. Catering for the specific needs of elderly residents can be challenging, so I'm glad that Millac Gold is proving to be a versatile partner in that type of kitchen. Magic Number was set up to reward people just like John and open to anyone using our products."
One of the most innovative parts of Pritchitts Magic Number promotion lies in the fact that every time a caterer enters their code, they are asked to nominate their wholesaler contact, meaning if the caterer wins, they do too.
John chose to nominate Dee Martin of 3663 in Livingstone, who wins a state-of-the-art iPod Touch. 
Pritchitts Magic Number promotion is now closed for 2012, with December's winner about to be announced as well as the grand prize winner of one top-of-the-range 13-inch 256GB MacBook Air. Anyone who has entered a magic number throughout 2012 stands a chance of winning the MacBook Air.
PLEASE NOTE: Pritchitts Magic Number competition has now ended.