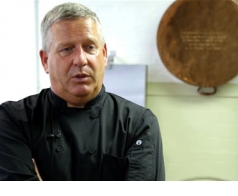 During an exclusive culinary masterclass at Westminster Kingsway College, London; Pritchitts – part of the Irish dairy farming co-operative Lakeland Dairies – provided caterers with menu inspiration to deal with the fortification challenges facing the care sector.
Held in partnership with Cost Sector Catering Magazine, the day was co-hosted by Simon Muschamp, Head of Marketing at Pritchitts and celebrated care Chef, Mark Ord, Hospitality Support Manager at Sanctuary Care Group. Alongside very special guest Dr. Mabel Blades – a registered dietitian and nutritionist with a PhD in diet and diabetes, the day was a mix of insight, inspiration and delicious fortified food.
The select group of care caterers and wholesalers from across the industry attended the masterclass and had the chance to watch Mark demonstrate a range of specially developed fortified recipes featuring high performance cooking, pouring and whipping – more than just cream – Millac Gold.
The dishes presented included Tomato Soup and Olive Oil Croutons, with Mark demonstrating the simple and useful art of flavour layering; Chicken, Leek & Mushroom Pie, Chicken Breast Stuffed with Cumberland Sausage with a Whole Grain Mustard and Honey Sauce served with Fondant Potato and Glazed Vegetables, Rhubarb & Vanilla Cheesecake and Vanilla Panna Cotta with Concasse & Coulis of Exotic Fruit served with a Ginger Tuile.
Mabel Blades delivered a stirring and motivating talk on the challenges of catering in the care sector, and hints & tips on how to fortify dishes and attain that all-important 'bliss point' – the perfect mix of sugar, salt and fat.
Talking about the masterclass, Simon Muschamp said: "Pritchitts has had an unprecedented response to the masterclass, we wanted to inspire caterers in the face of the many challenges they encounter in the care sector, which include budgetary pressures, time constraints and treating malnutrition. Millac Gold can play an integral role when it comes to giving caterers more flexibility, whilst also helping them to fortify dishes. We hope that the session has given our caterers food for thought, when they return to their working kitchens, and the confidence to try something new."
Indeed one of the attendees, Sue Franey, Catering Manager at Pembroke House said: "It was a wonderful masterclass, I thoroughly enjoyed the day, and the networking was very useful – as were the delicious recipes that we got to try."
Mable Blades commented: "It was a brilliant day, what Pritchitts is doing is truly inspirational I'm hoping that further masterclasses can take place in the future."
Used for cooking, pouring and whipping – Millac Gold is more than just cream – it whips up to 3x its own volume – can be used in both sweet and savoury dishes, won't split, and can be employed in place of multiple varieties of cream. It can also be stored in ambient conditions, further reducing kitchen costs.
Millac Gold is sold in 12 x 1 litre packs.