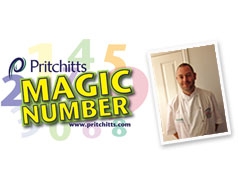 A caterer working at a major UK sports stadium has scored a winner – claiming the latest prize in the Pritchitts Magic Number promotion.
Andy Crofts, Sous Chef for Event Management Catering at Hull's KC Stadium, scooped an Apple iPad – the prize on offer every month until December to caterers using Pritchitts products.
He entered the unique product code from a pack of Pritchitts Creative Base online and was rewarded with the latest Apple gadget.
"It was a real surprise when I heard the news – I was absolutely speechless" said Andy, "My wife runs a business from our home and she has wanted an iPad for ages – so my prize will be put to good use!"
Pritchitts Craft Guild of Chefs-accredited Creative Base brings real innovation to dairy. As an easy-to-use product combining buttermilk and high quality dairy cream with gelatine, it offers chefs a flexible product for a variety of sweet and savoury dishes.
"Creative Base really helps to ease the pressure on busy match days when we have to do a lot of preparation which can be time consuming," said Andy, "anybody can use it and it has a great shelf-life. For me, it's as good if not better than products made from scratch."
Andy and his team regularly cater for 300-plus guests at the venue which is the home of football club, Hull, and rugby league team, Hull FC. His team also provided the food for a recent celebration dinner in honour of local boxer, Luke Campbell, who recently won a gold medal at the London Olympics.
Pritchitts Head of Marketing, Simon Muschamp, said: "Many congratulations to Andy on his success. It's great to hear that our products are really helping hard-pressed caterers deliver quality and consistency when they are preparing food under pressure, and in large volumes."
"Magic Number has been set up to reward caterers for their loyalty to the Pritchitts brand and is open to anybody using our products. We appreciate their time is precious, so have made it as simple as possible to enter. There are still more iPads to be given away, so I urge caterers to check their unique on-pack codes now."
Pritchitts Magic Number promotion runs until the end of the year - caterers need to go online to enter their unique pack codes and see if they are a winner. There are still four more iPads to be claimed monthly during the remainder of 2012 with a top-of-the-range 13-inch 256GB MacBook Air being offered as a grand prize at the end of the year.
PLEASE NOTE: Pritchitts Magic Number competition has now closed.