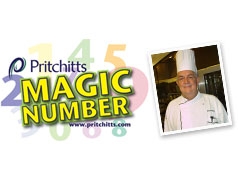 The head chef at a university has cooked up success away from his kitchen – as the latest winner of Pritchitts Magic Number promotion.
Josef Plattner from Cranfield University, Bedfordshire, discovered his magic number on a pack of Pritchitts Millac Whipping Cream, by entering it online. He is now the proud recipient of the latest Apple iPad – the prize on offer every month until December to caterers using Pritchitts products.
Josef, whose kitchen team prepares up to 300 covers every day for students, but can cater for thousands on events such as graduation days, said: "I'm absolutely delighted. I've been watching a lot of our recent sporting triumphs on TV and wondered if my time would ever come to win something. Now it has, which is great."
"It is a very stable product which won't split and compares favourably with fresh cream - it's obviously a highly developed product. And the fact that it can be stored ambient is also a big USP, the long shelf life and user-friendly packaging makes it a great product to use in the kitchen." added Josef.
Pritchitts Head of Marketing, Simon Muschamp, said: "I would like to congratulate Josef on his success. Pritchitts products lend themselves excellently to people, such as him, who work in roles where consistency is imperative. We're delighted to associate ourselves with such dedicated chefs and caterers. The beauty of the Magic Number promotion is that we are able to reward these people for their loyalty. Magic Number is open to anybody using our products – we know how busy they are so have made it as simple as possible to enter - go online to submit your unique pack codes and you could be a winner!"
There are still five more iPads to be claimed in 2012. In addition to monthly prizes, a top-of-the-range 13-inch 256GB MacBook Air will be offered as a grand prize at the end of the year.
PLEASE NOTE: Pritchitts Magic Number competition has now closed.