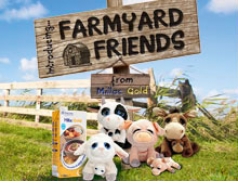 Pritchitts has launched a new snip and save scheme further rewarding caterers who have discovered the benefits of its leading chef's alternative to fresh dairy cream – Millac Gold.
Millac Gold's Farmyard Friends is an assortment of soft cuddly farm toys and caterers can claim their favourite simply by snipping and saving 12 Millac Gold coded bottom pack corners and sending them – along with a completed claim form – to the FREEPOST address available at www.pritchitts.com/farmyard-friends .
With a Lamb, Cow, Pig and Donkey to collect before the 31st October 2014, caterers are encouraged to start saving their Millac Gold 1litre pack corners now to complete the set.
Pritchitts is part of Lakeland Dairies – one of Ireland's largest farmer-owned dairy co-operatives – Farmyard Friends is a nod to the 2,200 farms that help Pritchitts supply dairy products to a global customer base, including the Craft Guild endorsed Millac Gold.
Simon Muschamp, Head of Marketing at Pritchitts says; "We're proud of our Irish dairy-farm roots and Farmyard Friends is our way of saying thank you to our legion of Millac Gold fans. There's limited time to collect all four so don't delay in posting us your pack corners."
Used for cooking, pouring and whipping – Millac Gold whips up to three times its own volume – it can be used in both sweet and savoury dishes, won't split, and can be employed in place of multiple varieties of cream. Millac Gold can also be stored in ambient conditions, further reducing kitchen costs.
Millac Gold is sold in 12 x 1 litre packs