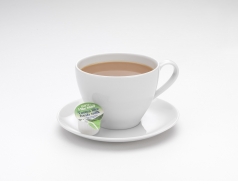 A 300-strong consumer study commissioned by Pritchitts and carried out by Leatherhead Food Research has confirmed that tea with Half Fat Millac Maid tastes just like tea with fresh, semi-skimmed milk*.
Simon Muschamp, Head of Marketing at Pritchitts, said: "It is positive that consumer tests confirmed that tea with Millac Maid tastes like tea with fresh milk. Millac Maid Mini Pots have been developed to do just this – deliver optimum taste as well as offer practical benefits to consumers and operators."
Caterers can be confident that they are not sacrificing flavour – or customers – if they choose to make the switch from chilled fresh milk to take advantage of the many conveniences, cost, long ambient shelf-life and hygiene benefits our Millac Maid Mini Pots can provide. Above anything else, customers get a proper tasting cup of tea out-of-home!"
The evaluation showed no significant differences between tea with fresh milk and tea whitened with Millac Maid on factors such as 'full bodied flavour' and a 'refreshing' and 'pleasant' aftertaste. Respondents also described a 'good appearance', 'smooth taste' and 'refreshing' nature of the tea whitened with Millac Maid, along with its 'good aroma' and 'appealing colour'.
The peel-and-pour, one-cup Millac Maid Mini Pots are easy-to-open, easy-to-store – they have a long shelf life at ambient temperatures – and minimise wastage through perfect portion control. By eliminating the risk of contamination, the sealed pots are ideal for in-room service in hotels and within the travel sector, providing a practical and hygienic way of serving hot drinks front-of-house.