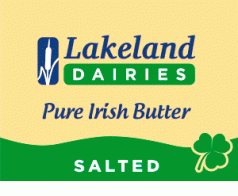 Following on from their recent endorsement of Lakeland Dairies' Real Dairy Single Cream, The Craft Guild of Chefs has awarded Lakeland Dairies' range of Pure Irish butters (salted and unsalted), its prestigious 'Approved Product' accreditation.
Andrew Green, Craft Guild of Chefs CEO says:
"Our panel of industry chefs were delighted to award Lakeland Dairies' butter range Craft Guild of Chefs Approved Product status. Our judges found the range of butters to 'have a great flavour profile with good colour and creamy texture."
The judges went on to highlight Lakeland Dairies Unsalted and Salted Butter as 'great products with a brilliant shelf life and easy to use'.
Jean Cattanach, marketing controller at Lakeland Dairies comments:
''We are delighted our Lakeland Dairies butter range has received 'Approved Status' by the prestigious Craft Guild of Chefs. This follows our Lakeland Dairies Real Dairy Single Cream being endorsed under the scheme and continues to demonstrate our dairy expertise."
Each butter product was put through a series of rigorous performance tests to determine their suitability, quality, and excellence before being awarded the accolade.  Approved products are allowed to promote their Endorsement, a guarantee to professional chefs of their quality, taste, packaging and performance.
Find out more about our butter range here