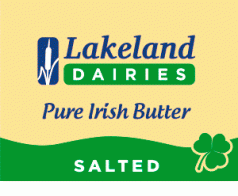 A newly released consumer survey* by Lakeland Dairies reveals exactly what customers want when eating out this Easter. It found:
Taste remains top priority
Nearly all of those who responded to the survey chose butter over margarine, stating they preferred it due to superior taste (90%), better quality (77%), and because it is a natural product (75%). A large majority - 89% - of those who expressed an opinion, agreed that Irish butter has an amazing reputation for both taste and quality.
Surging demand for natural and real
Consumers continue to fuel the burgeoning demand for natural and real food, driving forward the clean label trend, a preference for foods which only have natural ingredients in them. A whopping 91% of those surveyed said clean labelled goods were either important or very important to them when eating out.
Along with natural ingredients, a short ingredient list, natural flavours and recognisable simple ingredients are key parts of the clean label trend. Butter is made with cream from the goodness of milk and is therefore a perfect fit for consumers demanding a natural product. This was reflected in the consumer survey which showed a majority of consumers (82%) preferred butter due to its natural qualities.

Levels of trust in branded products extremely high
As expected, consumer trust is still exceptionally high in branded products, with 62% of those surveyed trusting branded packaging more than non-branded food items, because of the belief that branded packaging denotes high quality.
And when considering butter, branded packaging is extremely important for operators to provide for those eating out of home, as 87% surveyed recalled the specific brand of the butter they consumed when eating out.
Furthermore, provenance continues to feature prominently in consumer buying habits, with more than half of consumers surveyed (60%), believing an Irish brand of butter, such as Lakeland Dairies Pure Irish Butter, represents a higher quality of eating establishment.
Jean Cattanach, Marketing Controller at Lakeland Dairies notes, "It's fantastic to see consumers recognising the great taste and quality of Irish butter. Grass on the Island of Ireland is full of beta carotene, which has a natural yellow pigment. As our Lakeland Dairies' cows are naturally grass-fed, this creates the wonderful yellow colour in our Pure Irish Butter."
The consumer survey showed:
· 89% agreed that Irish butter has an amazing reputation for both taste and quality
· 90% prefer butter to margarine when eating out due to its superior taste
· 75% prefer butter to margarine because it is a natural product
· 91% said 'clean labelled' foods were either important or very important to them
· 62% trust branded butters
· 60% believe Irish butter represents a better quality of establishment
(Source – Lakeland Dairies consumer survey of 275 UK consumers aged 18-75, Nov 2021)