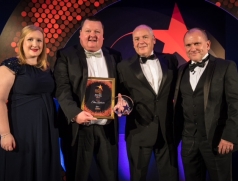 Pritchtts was the proud sponsor of the 'Best Newcomer' category at the EDUcatering Excellence Awards held at the Royal Garden Hotel in London on Tuesday 13th  October.
This annual event recognises those outstanding  individuals who have excelled within the schools meals sector – the 'stars' of the industry.
Winning an EDUcatering Excellence Award is a great achievement and is judged by industry peers as well as an elite panel of influential figures from the school meals industry.
This year Steve Ashburn of Roxett School, Harrogate was delighted to be crowned  Best Newcomer of the year and is pictured here with Brian Kyle, Pritchitts' Head of Foodservice receiving his award.