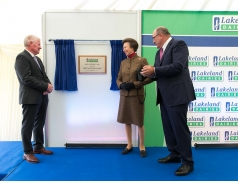 Wednesday 5th September 2018 – Her Royal Highness, The Princess Royal has officially opened a major new automated packing facility at Lakeland Dairies in Newtownards following a £5m investment by the farmer owned co-operative which has been supported by Invest NI.
The state-of-the-art new facility further enhances the capabilities of this major dairy processing site which plays a key role in the Foodservice Division of Lakeland Dairies.  The opening of the £5m new Packing Hall is part of an overall £27m investment by Lakeland Dairies in Newtownards over the past 10 years. It follows the opening in 2015 of a major new Global Logistics Centre in Newtownards which is among the most technically advanced global export facilities in Europe.
The co-operative has a particularly strong track record of international sales growth as a result of investment and innovation with exports from Northern Ireland worth some £170m annually. Further growth is predicted over the next 5 years with a particular focus on Asian Pacific, Middle Eastern, African and American markets.
Lakeland Dairies brings together over 750 family farms producing 600 million litres of high-quality, sustainable, pasture-based milk in Northern Ireland. The co-operative employs 225 people at Newtownards and the operation supports some 700 further jobs among suppliers and contractors across Northern Ireland.
The Princess Royal was received on arrival by the Lord Lieutenant of County Down, David Lindsay and greeted by senior representatives of the co-operative including Chairman, Alo Duffy and Group CEO Michael Hanley. 
After touring the new facility, Her Royal Highness met members of the Board of Lakeland Dairies, the staff of the co-operative and other guests including senior executives of Invest NI and DAERA. The Princess Royal then unveiled a specially commissioned plaque to mark her opening of the new facility.
Alo Duffy, Chairman of Lakeland Dairies said, "The driving aim of Lakeland Dairies is to create a vibrant and sustainable future for co-operative dairy farmers and to support them with the highest possible milk prices in line with market conditions. We are also intent on promoting the wellbeing of rural communities and the environment in which we operate. The opening of these excellent new facilities by The Princess Royal provides great encouragement for our co-operative ideals of Better Farming, Better Business and Better Living for all of our milk producers and the provision of exceptional service and delivery for our customers throughout the world."
Michael Hanley, Group CEO of Lakeland Dairies said, "Lakeland Dairies is an internationally recognised supplier of superb dairy ingredients and foodservice products underpinned by outstanding, high quality raw materials in the milk that our dairy farmers send to us for processing. We serve the dairy product needs of leading customers in key food industry sectors worldwide. Together with modern, large scale processing facilities and a highly skilled workforce, we are addressing many opportunities for growth and development in line with continuously strong global demand for dairy products.  Our Newtownards base will continue to play a key role in the ongoing export success of Northern Ireland long into the future."
About Lakeland Dairies
Lakeland Dairies is a farmer owned dairy processing co-operative with a heritage of excellence in dairy farming spanning over 120 years.  The co-operative markets 240 high quality dairy foodservice and food ingredient products to 80 countries worldwide, exporting close to 100% of its entire production capacity to every corner of the globe. Lakeland collects over 1.7M litres of milk directly from Northern Ireland dairy farmers each day and over 1.2 Billion litres of milk north and south each year
Using state-of-the-art technology, the Newtownards site has 12 different production lines making over 100,000 tonnes of dairy products and 700 million individual product units each year.  These include ice cream mixes, UHT milk, milk portions, flavoured milks, added value dairy creams, powdered desserts, cappuccino toppings and ice cream powder.
Lakeland Dairies' Global Logistics Centre at Newtownards is a fully automated facility with highly advanced technology including robotic systems, automatic cranes, over 14,000 individual pallet spaces and a simultaneous loading capacity for up to 11 forty-foot container vehicles at any one time. The Newtownards site has twice been awarded The Queen's Award for Export and has twice won the Northern Ireland Exporter of the Year Award presented by Food from Britain.