Date: 30th September 2012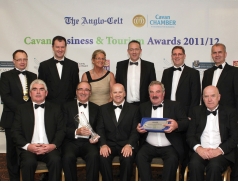 Lakeland's foodservice division has major processing operations at Pritchitts in Newtownards and the farmer owned co-operative processes milk supplied from hundreds of Northern Ireland dairy farms.
Accepting the award, CEO Michael Hanley said it was a direct tribute to co-operative dairy farmers across the entire Lakeland catchment area where farming families in fifteen cross border counties produce some 700 million litres of milk annually for Lakeland Dairies. 
"Lakeland Dairies and our foodservice arm Pritchitts in Newtownards have an excellent reputation at home and abroad for the quality of our foodservice products and dairy ingredients.  That reputation is built directly on the quality of milk produced by all our dairy farmers and on the advanced processing that we use to convert that milk into higher value dairy products," Hanley said.
"Lakeland will continue to support and encourage co-operative dairy farming and international growth for the dairy industry.  We will continue to be an engine for innovation, economic growth and community development and we are most grateful to our shareholders, producers and communities north and south for their stalwart support of this agenda."
Lakeland Dairies is a farmer owned dairy co-operative with a heritage of excellence in dairying spanning over 100 years.  The co-operative is an internationally recognised supplier of superb dairy ingredients and foodservice products with an outstanding mix of high quality raw materials, modern processing facilities and a highly skilled workforce.  The co-operative markets a wide range of value added dairy products and food ingredients worldwide.