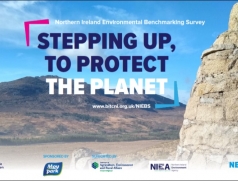 Lakeland Dairies Foodservice production site achieves Platinum status – the highest scoring level – in this year's Northern Ireland Environmental Benchmarking Survey.
Northern Ireland's most sustainable organisations were revealed at the 2019 NI Environmental Benchmarking Survey Results Launch event at Belfast Harbour Office on Tuesday 26 November 2019.
The Survey, which is run by Business in the Community, sponsored by Moy Park and supported by the Department for Agriculture, Environment and Rural Affairs, recognises and rewards those organisations that are going above and beyond their legal requirements to improve their environmental impacts and better manage their resources.
107 organisations from a range of sectors, including Construction, ICT, and Food and Drink, took part in the Survey with 45% of participants achieving Gold or Platinum Status.
The Survey also welcomed 26 new participants, many of which were introduced by previous participants keen to encourage others to assess their sustainability, and 16 organisations with less than 25 employees took part in the new Small Business Survey.
New Chair of Business in the Community NI and Group Chief Executive of Translink, Chris Conway, said: "The Survey is an important comparison tool and a way for organisations to be recognised for their environmentally sustainable efforts, as well as identify areas for improvement.
"It has never been more important that organisations take action that's better for the environment, and business in particular recognises that the general public and their stakeholders consider sustainability to be of utmost importance. The Survey is the perfect way to demonstrate commitment to sustainability and I want to congratulate all of those companies that have stepped forward to report on their environmental practices."
Paul Chmielewski Head of Marketing commented "We are delighted to achieve Platinum status for the 3rd consecutive year. Our teams work extremely hard supporting our objective to operate as a sustainable, efficient, Dairy Co-Operative across all our operations. This award for our Lakeland Dairies site in Newtownards, LE Pritchitt, recognises their focus and dedication."
To find out which organisations participated in the 2019 Survey, and to see how they scored, visit www.bitcni.org.uk/niebs