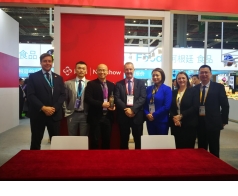 Lakeland Dairies Foodservice signed a Memorandum of Understanding with Namchow Food Group at the recent China International Import Expo (CIIE) held earlier in the month in Shanghai.  The signing of the MOU was witnessed by senior Chinese government officials and Tim Losty, Minister Counsellor Northern Ireland Bureau China and Andrew McCormick, Director General, International Relations at The Executive Office, Northern Ireland.
Speaking at the event, Paul Chmielewski, Head of Marketing and International Sales said 'We have been successfully working with the Namchow Food Group for over 10 years and are delighted to sign this MOU, which formally recognises our strong working relationship. We look forward to future collaboration with our Chinese partners to develop mutual, long term business growth'
Namchow Food Group imports a range of premium dairy products from Lakeland Dairies, which they distribute to bakeries and patisseries throughout China.