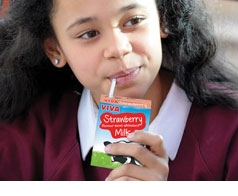 Lakeland Dairies is encouraging caterers at this year's LACA Main Event to join schools across the UK in its campaign to get children drinking more milk.
Visitors to stand P62 will be able to speak with the team about the education sector's leading flavoured milk brand, Viva Flavoured Milk, and the return of Viva Weekly Win to schools this September.
Paul Chmielewski, Head of Marketing and International, Lakeland Dairies:
"Working closely with the education sector, we pride ourselves on providing products pupils will truly enjoy and Viva Flavoured Milk is a trusted way to get more school students to drink milk, whether as a healthy snack, part of a meal or to rehydrate after sports. We are delighted to extend our support further with the return of Viva Weekly Win and with a new prize up for grabs, it will be a great incentive for pupils to increase their milk intake."
For 2018, pupils will have the opportunity to win a Fitbit Charge 2 – worth £100 – every school week from 4th September to 19th December, simply by entering their Viva carton codes at www.vivamilk.co.uk. Available in three delicious flavours – Strawberry, Banana and Chocolate – the more milk they drink the more chances they will have of winning.
As well as launching the competition for the new school year, caterers who visit Lakeland Dairies stand at LACA will be able to try Viva Frozen Yogurt and see how the low fat frozen yogurt can prove the perfect substitute to ice cream.
Catering for one of the UK's biggest food trends, Viva Frozen Yogurt is made with 40% fresh natural yogurt and contains less than 1g fat per 100ml scoop and works well served with fruit or as an ideal base for nutritious smoothies.
Paul adds;
"Our Viva Frozen Yoghurt allows caterers to feel confident in serving up a dessert option that they know pupils will find delicious but meets food standards. With six flavours in the range, caterers can choose from Natural, Blueberry, Coconut and Chocolate, Strawberry or Mango to provide a low fat way to finish any school meal."
Both Viva Flavoured Milk and Viva Frozen Yogurt are low fat, GM free, vegetarian, gluten-free and contain no artificial colours, sweeteners or preservatives – making it easier for caterers to meet school meal standards, as well as cater for special dietary needs.