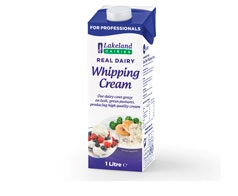 Lakeland Dairies – one of Ireland's largest farmer-owned dairy co-operatives – has relaunched its range of Dairy Creams to meet chef demand for premium and practical ingredients.
Moving from Millac to Lakeland Dairies branding to emphasise its farmer-owned dairy credentials, Lakeland Dairies Dairy Whipping Cream and Dairy Single Cream join the brand's comprehensive portfolio of premium dairy solutions following research* with the nation's chefs.
Meeting chefs' exacting needs, the relaunches are ideal for both hot and cold dishes. Lakeland Dairies Dairy Whipping Cream is a luxury indulgent cream, adding depth and richness to the flavour and texture of any dish. Removing the worry of over-whipping, it stays exceptionally stable when whipped and does not split during cooking.
Delivering consistent quality from start to finish, Lakeland Dairies Dairy Single Cream is perfect for pouring over desserts or adding a creamy richness to any sauce or soup, all the while without splitting.
Independent research* identified a clear demand for robust, stackable packaging allowing chefs to maximise storage space. Gaining chef approval, Lakeland Dairies new Tetra Edge square packaging proves easy to store in the fridge or on the shelf until opened. The larger opening cap is easier to open, quicker to pour and re-seals to maximise freshness in the fridge and avoid spillages.
Paul Chmielewski, Head of Marketing and International, Lakeland Dairies, says:
"We pride ourselves on listening and responding to the nation's professional chefs in order to fulfil their needs with premium and practical dairy solutions. It was a hugely beneficial exercise to speak with the UK's chefs, identifying product and packaging factors that matter to them most. Our updated cream range has been met with great enthusiasm by these chefs and we're excited to bring this to the market."
The chefs in the research also highlighted a need to minimise wastage – both for cost saving and environmental benefits. Chefs were impressed to find that the new packaging offered better re-seal ability, delivering quality assurance for the duration of the products' use.
Paul adds: "With the need to keep wastage to a minimum becoming ever more important, the re-sealable Tetra Edge packs will highly benefit chefs. Packaging colour was another key element that was highlighted in our research. In order for chefs to quickly and easily identify products, the packaging offers a recognisable colour code with clear labelling to help chefs avoid mistakes in busy kitchens."
The new range is available now and comes in 12 x 1 litre cases.
Lakeland Dairies is one of Ireland's largest farmer-owned dairy co-operatives. Their cows graze on lush, green pastures producing high quality milk, which is collected from over 2,400 family farms on a daily basis. Using unrivalled expertise and state of the art machinery, they process over 1.1 billion litres of milk into their range of value added dairy products.
*Good Sense Research, online survey November 2017. Sample size, 200 chefs