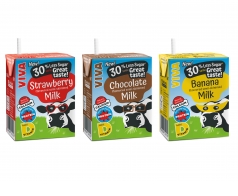 As part of the dairy specialist's ongoing commitment to its customers and communities, the roll out will save a staggering 6.5 tonnes of plastic per year.
Commenting on the milestone, Paul Chmielewski, Head of Marketing and International at Lakeland Dairies says:
"From farm to fork, Lakeland Dairies Foodservice is focused on delivering profitable and sustainable growth for the benefit of our farmers and customers, as well as our wider community stakeholders. This includes how we produce and package our products.

Plastic is a very important issue. Not only to our customers but the people who love VIVA the most – the pupils. Introducing a new paper straw to our entire VIVA Flavoured Milk Range has been a companywide initiative that has taken over 12 months to complete. We are incredibly proud to bring this innovation to market and are delighted to be the first school dairy supplier to do it."
The new paper straw comes from FSC-certified sources (Forest Stewardship Council) and the carton and straw are 100% recyclable to support schools and LEAs with their own green targets and pupil welfare. Paul adds:
"From nutrition to sustainability VIVA supports school caterers. Calcium deficiency is a real health concern among eleven to eighteens, 11% of boys and 22% of girls have an extremely low intake. That's why we added vitamin D to VIVA, to help them absorb calcium more easily from milk  - making it even more nutritious and wholesome.

"To now also have a FSC certified straw, that will save 6.5 tonnes of plastic a year and make VIVA a sustainable product is an enormous feat. Not only for Lakeland Dairies but for the hundreds of schools that serve VIVA Flavoured milk."
Lakeland Dairies will introduce the new FSC certified sustainable straws in September 2019 across the entire VIVA Flavoured Milk Range. Available in strawberry, banana and chocolate, VIVA Flavoured Milk is made from semi-skimmed milk straight from the Irish co-operative's own dairy farms, making it fully traceable. With added vitamin D to keep bones strong, VIVA is also low in fat and suitable for vegetarians. It is best served chilled; but can be conveniently stored ambient and has a long shelf life so there is no food waste.