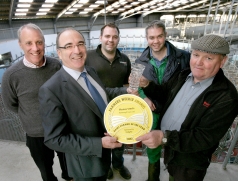 Lakeland producers win Major UK Dairy Accolade
Steele family farm at Newtownards is exemplary.
"Having producers like the Steele family supplying our milk fills us with confidence for the future." Lakeland Dairies CEO
The Chief Executive of Lakeland Dairies, Michael Hanley called personally to the dairy farm of William, Thomas  and Samuel Steele, Kircubbin, Newtownards, to congratulate the Lakeland milk producers who have been named Dairy Farmers of the Year in the entire UK and Northern Ireland for the exceptional quality of their farming operations.  The Steeles are members of the Lakeland Dairies Co-operative.
"We are simply delighted for Thomas, Samuel  and William.  It takes exceptional dedication and commitment together with superb farming expertise to win such a prestigious award," said Michael Hanley.  "We are immensely proud that the Steeles are members and suppliers of milk to Lakeland Dairies and we are very happy to acknowledge their excellent farming achievements."
"Lakeland Dairies itself recently won a major award for Innovation.  In the Steeles we see innovative farmers who are focused on being the best in agriculture and dairying while also sharing their knowledge of best practice with fellow dairy farmers.   They are exemplary in every respect and our milk processing partnership with them is built on this same level of excellence where we are equally committed to quality from farm to market."
Lakeland Dairies which is a farmer owned dairy co-operative with a heritage of excellence in dairying spanning over 100 years.  Lakeland processes milk supplied from hundreds of Northern Ireland dairy farms and operates major dairy processing facilities at Pritchitts in Newtownards.  The co-operative is an internationally recognised supplier of superb dairy ingredients and foodservice products which it exports worldwide.
Lakeland CEO Mr. Hanley said that the award won by the Steeles would serve as a great boost for its co-operative dairy farmers across the entire Lakeland catchment area where farming families in fifteen cross border counties produce some 700 million litres of milk annually for the co-operative. 
"Lakeland Dairies and our foodservice arm Pritchitts in Newtownards have an excellent reputation at home and abroad for the quality of our foodservice products and dairy ingredients.  That reputation is built directly on the quality of milk produced by all our dairy farmers and on the advanced processing that we use to convert that milk into higher value dairy products.   Having producers like the Steele family supplying our milk fills us with confidence for the future.  It is a great tribute to all of our milk producers who are committed to quality and excellence in dairying."